Information Menu
Self-Catering Holiday Information
Fishing
Trout Fishing (for residents of Loch Monzivaird Chalets only)
Season - 13 March to 6 October. Fishing on Loch Monzievaird is by boat only - (£10 for half or full day). Wild Brown and American Brook Trout. We have access to 3 small - suitable for one person to fish - fibre glass boats and 1 larger (maximum 3 adults or 2 adults & 2 children) in the boat shed on the north side of the loch. Life Jackets are provided at Reception. Please book on the day prior.
Fishing is also available on a lovely stretch of the River Earn just half a mile from Loch Monzievaird. (1-2 miles of the Earn). Permits (£5 per day). Maps available from Reception.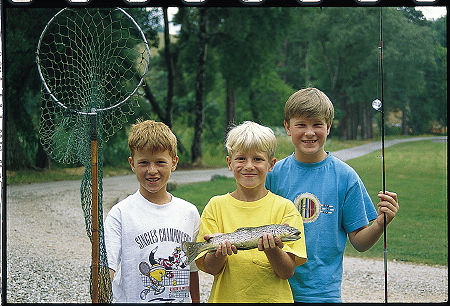 http://www.auchingarrich.co.uk/fishing.html
Drummond Loch - (boat only) Stocked Brown Trout. Fly-fishing. Permits from Strathearn Tyres Crieff (01764 654697)
Orchil Loch Fishery near Braco offers Fly only Trout fishing for Rainbows. Peaceful location. They also have a new coarse fishing lake for Carp, Bream, Roach, Rudd, Tench,, Perch & Gudgeon. Open all year. 01764 682287
Frandy Fishery: (01259 781352). Take a drive up beautiful Gleneagles right to the top and then a bit further up to Frandy. It is a lovely quiet spot with some hard fighting rainbow trout.
Salmon Fishing
River Earn season - 1st February- 30th October.
River Earn Crieff AC Stretch - Upper Strowan beat; Crieff bridge to Templehall; Drummond Estate and Lochlane and Laggan. https://www.crieffanglingclub.org.uk/prices.htm
Salmon Fishing
River Tay season - 15th January- 6th October.
Fish Tay
- everything you want to know about fishing on the Tay system.