Information Menu
Self-Catering Holiday Information
Family Activites Nearby
Disc (Frisbee") Golf
Disc golf is played much like traditional golf, but instead of a ball and clubs players use a flying disc or Frisbee. The sport was formalised in the 1970s, and shares with "ball golf" the object of completing each hole in the fewest number of strokes, or in the case of disc golf, the fewest number of throws.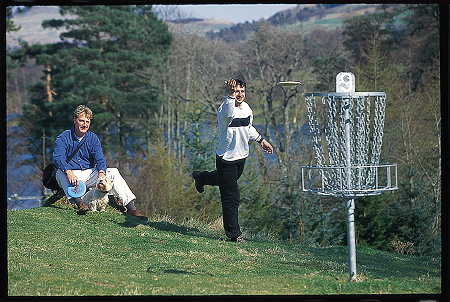 Loch Monzievaird

The course at Loch Monzievaird :
a 9 hole par 3 disc golf course in our grounds (hidden away in the trees), with marked tees and USPDA chain baskets. Great fun for children and adults. It is a serious sport in the USA and in Europe. Loch Monzievaird was the first established Disc Golf Course on mainland Scotland (1995) although many other 'informal courses existed before this. Derek Robins the British Open Champion on many occasions advised us and helped to set the course up and has also played here many times. USA see: http://www.pdga.com/ in the UK see: http://www.bdga.org.uk/
Soft Play
:
The Noah's Ark Centre
(close to Tesco's Perth) provides a huge children's play barn, a go-kart track for all ages a golf centre with driving range, ceramics, bowling café & picnic area. 01738 445568
Beyond Adventure
Aberfeldy, Perthshire. 01887 829202. Canoeing on the river Tay, gorge exploring, rock climbing and abseiling. This is not just for the experienced. Quality tuition will be given. They are very busy you will need to call to check on availability. Half and full days. Discounts for children and families. Our contact: Stephen Macdonald.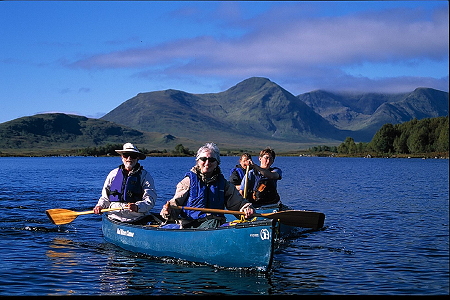 Go Ape !
award winning high wire forest adventure course of rope bridges, tarzan swings and zip slides - Aberfoyle, near Stirling. 0870 4282710.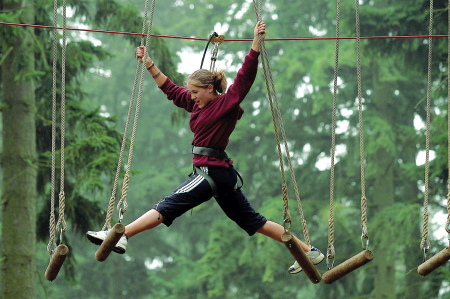 Auchingarrich Wildlife Centre
: Set on a hillside overlooking Comrie, the Centre is home to a collection of Highland cattle, Arctic and Silver foxes, Wallabies & Llamas and many other types of large and small animals. Children will love the hands-on experience of handling the chicks, ducklings and rabbits and watching the daily hatchings.
There is a large Playbarn, (education packs and information sheets available), Pine Lodge Coffee Shop and a retail shop, Picnic tables and barbecues (take your own charcoal). Woodland walks (stout shoes recommended). Free parking. Well-behaved dogs on leads are welcomed.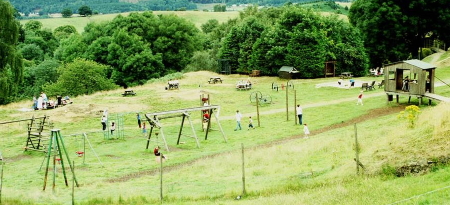 Auchingarrich Play Park
Riding
:
Crieff Hydro
have a very comprehensive riding school 01764 655555. also at
The Gleneagles® Hotel
is a short 15 minute drive away.The Equestrian School is one of the best equipped in the world and provides facilities for every discipline of horsemanship, and at every level of experience.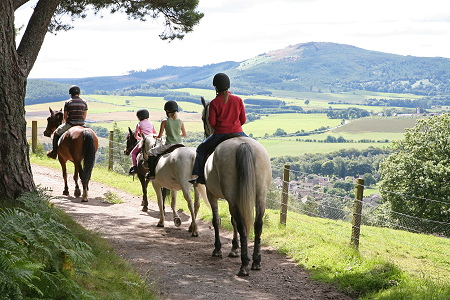 Skiing
:
Glenshee
ski school: 01339 741320. Glenshee is about 45 minutes drive in good conditions. There are 21 ski tows in a quite extensive ski area with 36 runs. When conditions are good it can be great skiing. Check before leaving, and get there early if you need to hire equipment.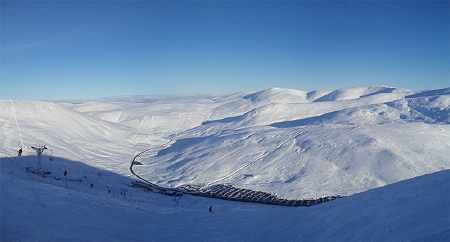 Splash!
River rafting, Paintball, Duckies & Canyoning Aberfeldy, by Loch Tay, Perthshire.
Descend the allt a Bhealaich gorge by Kenmore. Canyoning over waterfalls, slides down natural water flumes, scrambling & jumps from rocky ledges into deep clear pools. All equipment provided. Call to book. Tel no. 01887 829706
Splash! Website
Splash! : email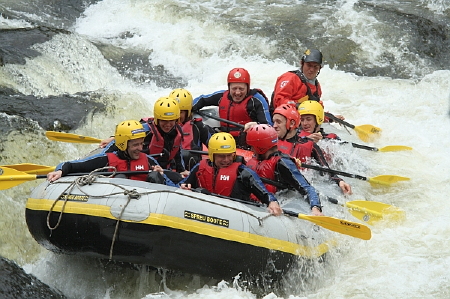 Munro's.
If you are planning to walk some of the Munro's a in the area please make sure that you have checked access arrangements and weather conditions, and that you are well equipped. It would be a good idea to buy a Munro book as these are full of good advice on what to carry, where to start your walk and will be able to give you some idea of degrees of difficulty. The better known local Munros include, Ben Vorlich, Ben Chonzie, Ben Lawers, Beinn Ghlas, Ben More, Stob Binnein and Schiehallion.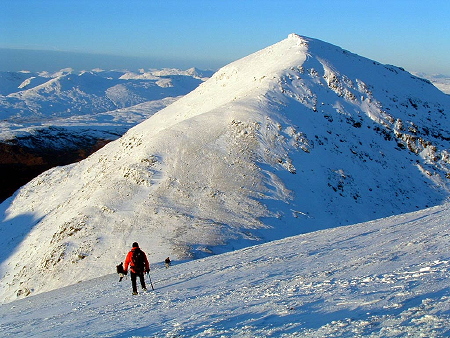 Knockhill Racing Circuit
near Dunfermline, Fife. KY12 9TF Tel: 01383 626264 Junior Pro-kart experience Suitable for children between the ages of 8-13.Pro-kart experience Suitable for age 14+. In both cases drivers are given instruction on technique and safety followed by high-speed fun on the 500m long track. Race suit, helmet and gloves are provided.
Your reward for enduring your beloveds antics on the circuit could be a visit to the Grouse & Claret (tel: 01557 864212) for a meal at this popular and pleasant restaurant.
Skydive Strathallan
Strathallan airfield Perthshire. 07774 686161. This club is dedicated to skydiving. Situated near Auchterarder it is one of the oldest clubs in the world having been in operation for over 40 years. Minimum age is 16. If you can't bear to watch, Gleneagles is a wonderful place for afternoon tea, and Auchterarder itself has a good selection of small and interesting shops.